November 25 2017 - 4:21 pm
Remove From Other Playlists will remove the selected tracks in the selected playlist from every other user-created playlist, such that the selected playlist is the only user-created playlist that contains them. The track entries in the Media Library playlists (Music, TV Shows, Audiobooks, etc) will not be affected. And, perhaps obviously, the script cannot remove tracks from Smart playlists since they are created dynamically; it's likely any track you remove would just be sucked back in.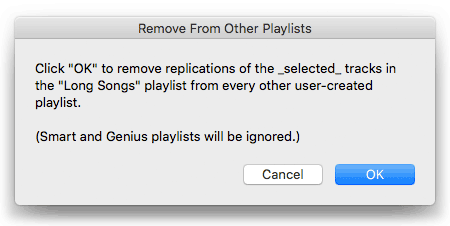 More information and download for Remove From Other Playlists is on this page.