November 2 2019 - 3:15 pm
Coverscope is an applet that helps manage track and file artwork. It will display both the track entry artwork and the artwork metadata from the track's file: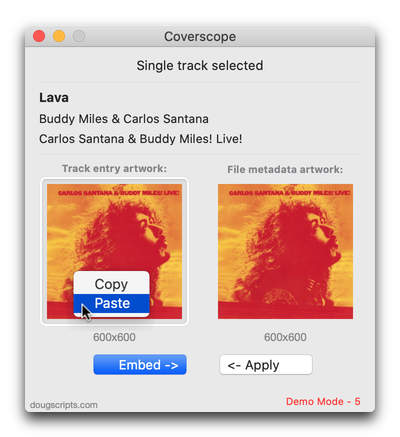 If one or the other is missing, the extant image data can be applied or embedded to the other. If both artworks are missing, an image from the clipboard can be pasted or an image file dragged to the Track entry artwork well to apply and embed it to the selected track.
Additionally, the Track entry artwork can be copied to the clipboard or exported as a file.
Coverscope is free to try in Demo Mode. In Demo Mode, any combination of features can be used up to five times per launch. A registration code to remove this restriction is US$2.99. More information and download is here.
And here's a cool trick I've been using Coverscope for:

Apparently, some tracks have artwork but not really, according to Coverscope: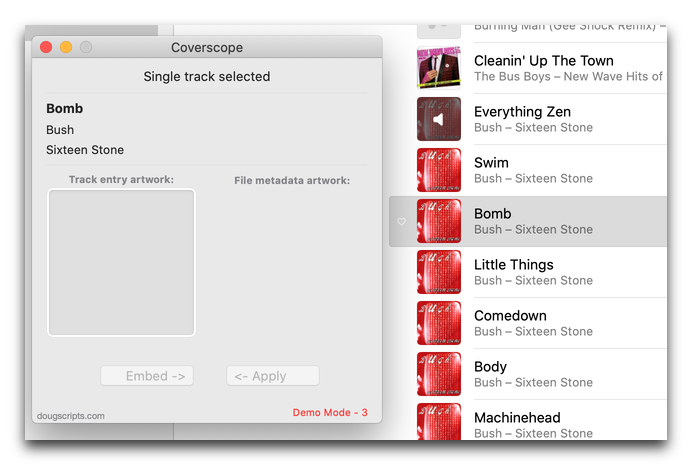 Indeed, even though the artwork for the tracks of this Bush album display in Music, there was an error trying to get the artwork. So, I opened up the track's Show Info window in the Music app, went to the artwork pane and copied the image to the clipboard—just select it and when it highlights, press Command-C.
Back in Coverscope, I paste the artwork from the clipboard to the Track entry artwork well. Fixed!