December 13 2019 - 1:52 pm
For macOS 10.15 Catalina and later only. This script converts the files of the selected tracks in the Music app using an encoder chosen on-the-fly (restoring your Preferences-set encoder afterwards). The newly converted files are then moved to a new location of your choice, and their tracks removed from Music. The read me doc contains additional important information.
Also see M3Unify, an application that provides many more options for converting/exporting files from Music or iTunes, including customizable file re-naming, sub-folder mods, artwork export and more.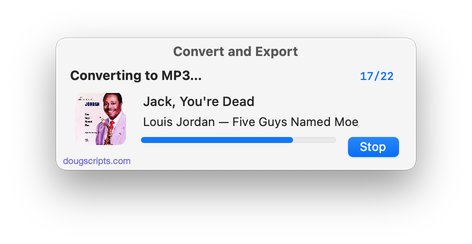 Latest version:
Accommodations for macOS 10.15 Catalina
Performance and security enhancements
More information for Convert and Export v5.0 and download link is here.