December 12 2019 - 5:06 pm
For macOS 10.15 Catalina and later only. MP3, AAC and ALAC audio files have the capability to store artwork image data internally as metadata, thus allowing artwork to "travel" with a file. This applet will examine the files of the selected tracks (or tracks in the selected playlist) for artwork metadata. Eligible audio tracks whose files are capable of embedding image data but do not contain artwork metadata will be copied to a new discrete playlist.
Note: Music-assigned artwork may not necessarily be embedded as metadata; pre-ID3v2 MP3s do not store image data; this applet ignores how the Finder may or may not display an audio file's icon image.
Also see Is Artwork Embedded.
To embed artwork to tracks' files try Re-Embed Artwork or Re-Apply Downsized Artwork.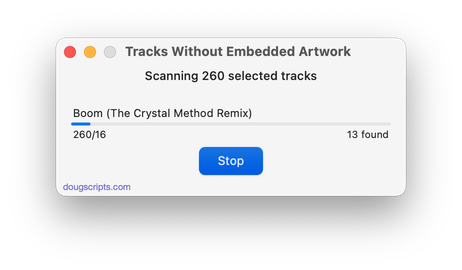 Latest version:
Accommodations for macOS 10.15 Catalina and the Music app
Performance and security enhancements
More information for Tracks Without Embedded Artwork v2.0 and download link is here.