February 4 2020 - 8:54 am
Apple's Music app still provides a Description tag for music tracks but the only way to see or change this tag is through the browser window while in Songs view: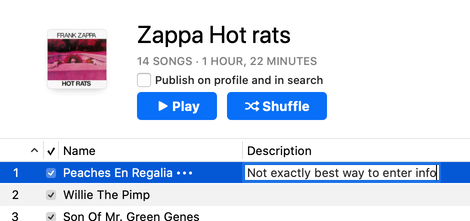 While this is a, ahem, serviceable means to enter data, if you visit my house you'll have to use this script attached to a keyboard shortcut: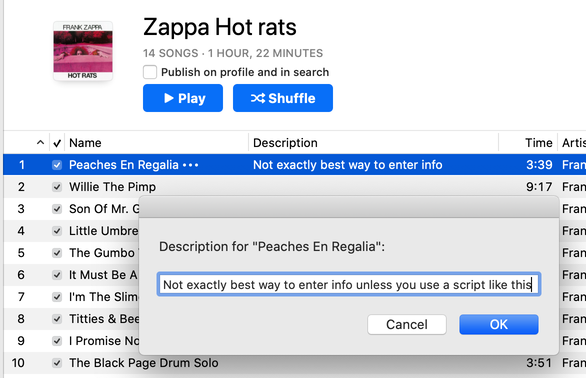 Here's the script to view and edit the description tag of a single selected track:
tell application "Music"
set singleSelection to item 1 of selection
set defaultDescription to (get description of singleSelection)
set ddResult to (display dialog "Description for \"" & (get name of singleSelection) & "\":" default answer defaultDescription)
-- if Cancel button pressed, script ends here
try
set description of singleSelection to text returned of ddResult
end try
end tell

Copy the script into Script Editor or click the little Script icon to begin the Trial by Permissions Dialogs to *automatically* open the script in Script Editor. Save it named whatever you like as a "Script" to your ~Library/Music/Scripts/ folder. Then assign it a keyboard shortcut.