April 14 2020 - 10:30 am
For macOS 10.15 and later only. This script will scan the Music library or a selected playlist for tracks whose Lyrics tags are blank and copy them to a new discrete playlist. Can also toggle to search only for tracks with lyrics.
(Please Note: The script can only discover tracks with "Custom Lyrics" provided by the user. There is no accounting for lyrics made available via Apple Music or iCloud Music Library. That data is inaccessible.)
Free to use in Demo Mode: While in Demo Mode, found tracks will be reported but only 20 tracks will be discovered and copied to the "No Lyrics" playlist per launch.
To purchase a registration code and remove these restrictions, download and launch the app. Click "Register..." in its File menu and follow the prompts to purchase a code for $1.99. When your payment is processed, you will be emailed a registration code that will unlock the Demo Mode restrictions.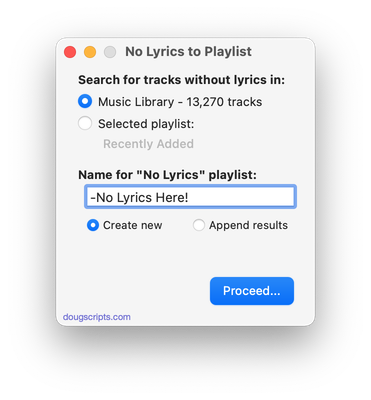 Latest version:
Accommodations for macOS 10.15 Catalina
Minor UI update
Performance and security enhancements
More information for No Lyrics to Playlist v2.0 and download link is here.