April 22 2020 - 5:39 pm
One of the behaviors of iTunes I liked that also made it to the Music app is that when a new playlist is created, it appropriates the arrangement of visible columns from the "Music" library in Songs view—or from the playlist from which it was created if you use "Selection to New Playlist". Thus you would be assured that your preferred columns would be available in any new playlists you made.
I wrote a script for iTunes that used this behavior to re-create existing playlists with the preferred columns. Unfortunately, because of a bug in the Music app that doesn't quite handle AppleScript-deleted playlists properly (the original playlists need to be deleted after making re-creations), I was reluctant to release an update to that script.
The bug is still there but the people are clamoring so I figured I just better push this out with a workaround and some caveats in the documentation.
Assimilate View Options v5.0 re-creates each selected playlist so its Songs View column settings (visible columns) are the same as the main "Songs" library.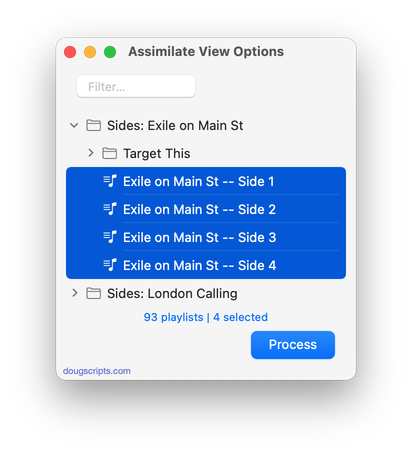 Unlike the version for iTunes, this one works on batches of playlists. Although, honestly, I wouldn't do more than a small batch in a single go because I just don't know how the Music app will react to a lot of playlist manipulation. After each batch is processed, the script will offer to quit and restart the Music app, which is the workaround to getting the playlists Sidebar redrawn correctly.
Unavoidably, Music displays new playlists in "Playlist View" by default. Here's a tip to assign keyboard shortcuts to View menu options that will make changing to a different view quicker and easier.
More information and download for Assimilate View Options is here. And, please, read the documentation. There are a couple of important considerations to be aware of.