May 15 2020 - 2:54 pm
For macOS 10.15 and later only. This script re-creates each selected playlist so its Songs View column settings (visible columns) are the same as the main "Songs" library.
Works with user-created regular playlists only. Please read the accompanying Read Me .rtfd doc.
Note: Unavoidably, Music displays new playlists in "Playlist View" by default. Here's a tip to assign keyboard shortcuts to View menu options that will make changing to a different view quicker and easier.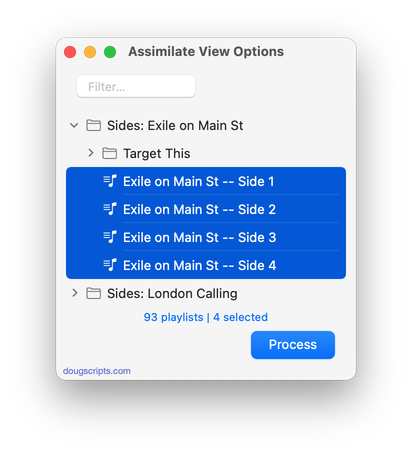 Latest version:
UI tweaks and performance enhancements
v5.0 (April 22, 2020):
Accommodations for macOS 10.15 Catalina and the Music app
Only able to work with "plain" playlists
Performance and security enhancements
More information for Assimilate View Options v5.1 and download link is here.