August 7 2020 - 3:38 pm
For macOS 10.15 and later only. This script will convert the files of the selected tracks using an encoder chosen on-the-fly (each encoder's current Preferences-set options will be in effect) and replace each original track's file with the converted version.
Free to use in Demo Mode: While in Demo Mode, only five tracks may be converted per launch.
To purchase a registration code and remove the restriction, download and launch the app. Click "Register..." in its File menu and follow the prompts to purchase a code for $2.99. When your payment is processed, you will receive a registration code that will unlock the Demo Mode restrictions.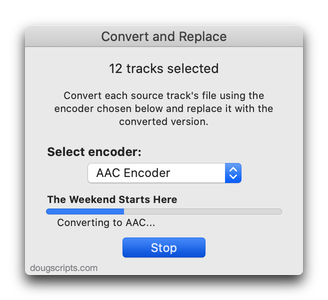 Latest version:
Accommodations for macOS 11 Big Sur
Performance, UI and security enhancements
More information for Convert and Replace v3.2 and download link is here.