November 3 2020 - 9:24 pm
For macOS 10.15 and later only. Floating panel allows you to control rewinding or skipping forward in the currently playing track by a user-entered number of seconds (1-120). Optionally, play/pause the current track. Useful for 'scoping through tracks, making transcriptions, and so on.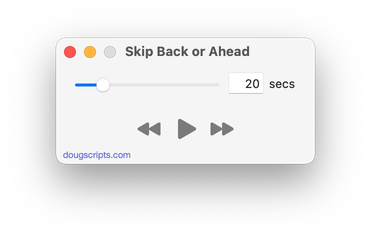 Latest version:
Additional accommodations for macOS 11 Big Sur
More information for Skip Back or Ahead v3.2 and download link is here.