December 17 2020 - 3:11 pm
For macOS 10.15 and later only. Performs a "Go" search of Wikipedia (like Google's "I'm Feeling Lucky") in your default browser using the Song Title, Album, Artist, or Composer tag of the single selected or currently playing Music track. OR if a radio stream is currently playing and the provider has formatted the stream title correctly, such that Artist - Song Title is displayed, the script will do a Wikipedia search for the Artist name.
Note: A current bug (or feature) in the Music app (v1.1) prevents AppleScript from getting tag information from a streaming Apple Music track.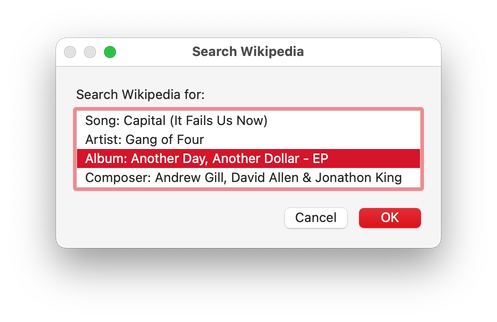 Latest version:
Accounts for Music app bug/error getting tag info from streaming tracks
More information for Search Wikipedia v3.1 and download link is here.