February 23 2021 - 2:22 pm
For macOS 10.15 and later only. This script will allow you to batch set or clear the Album Rating and/or Album Love/Dislike for the albums of the selected tracks or the albums associated with the tracks in a selected playlist (note that only a single track from any album need be selected in order to change the album rating or loved of the entire album). Handy for clearing batches of albums of their user-set album ratings, or re-rating batches of albums.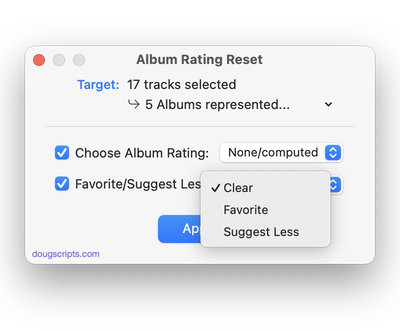 Latest version:
Additional minor accommodations for macOS 11 Big Sur
More information for Album Rating Reset v4.4 and download link is here.