March 10 2021 - 7:04 pm
For macOS 10.15 and later only. This script will allow you to merge the track contents of two or more playlists to a new or existing playlist or delete any number of playlists at once, including Smart, Genius, and Playlist Folder playlists. The merge feature will prevent the same tracks that may appear in different source playlists from being duplicated and has an option to delete original playlists. The delete feature only deletes playlists; tracks, of course, remain in the library.
This app is free to try full-featured in Demo Mode. In Demo Mode it will only process 5 playlists per launch. If you like it you can purchase a code for $1.99 which will unlock the Demo Mode restriction. Launch the app and click "Register…" in its File menu to make an in-app purchase.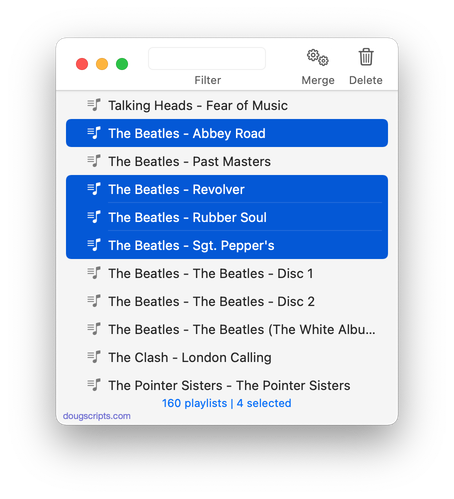 Latest version:
Additional accommodations for macOS 11 Big Sur
Minor maintenance
More information for Merge-Delete Playlists v6.2 and download link is here.