March 26 2021 - 2:49 pm
For macOS 11 and later only. This applet plays each track in the selected Music playlist for a set time interval optionally starting at a set number of seconds into each track, beginning with the selected track. Handy for 'scoping playlists.
Needle Drop will work best on tracks that have local files. Un-cached tracks streamed from the cloud may upset timing while audio is being downloaded.
Also see Audition End.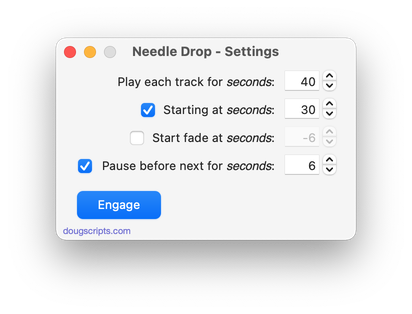 Latest version:
This version for macOS 11 and later only
Adds "Clear Playing Next" as a convenience routine
More information for Needle Drop v7.4 and download link is here.