November 5 2021 - 7:07 pm
For macOS 11 and later only. This script will scan the Music library or a selected playlist for tracks whose "Custom" Lyrics tags are blank and copy them to a new discrete playlist. Can also toggle to search only for tracks with lyrics.
(Please Note: The script can only discover tracks with "Custom Lyrics" provided by the user. There is no accounting for lyrics made available via Apple Music or iCloud/Sync Library. That data is inaccessible.)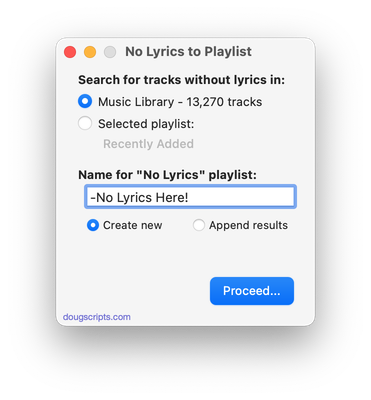 Latest version:
Accommodation for macOS 12 Monterey
Minor speed boost; still somewhat sluggish
Minor UI and security enhancements
More information for No Lyrics to Playlist v3.0 and download link is here.