January 29 2023 - 12:44 pm
Drag and drop audio files to this droplet to have the Music app convert them with an encoder selected on the fly, restoring the Preferences-set encoder afterwards, and save them to a user-selected location. The converted files/tracks are removed from the Music app, as though it "never saw them". Includes option to delete the source audio files.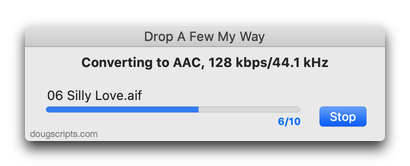 Latest version:
Maintenance and minor performance fixes
Accommodations for macOS 13 Ventura
More information for Drop A Few My Way v5.5 and download link is here.