January 17 2023 - 5:00 pm
Copy your single choice of filename, file path (location), file's parent folder path, file creation date (YYYY-MM-DD HH:MM:SS), current playlist, volume adjustment, start/stop time (HH:MM.SS), rating stars as text, artwork size (WxH), purchaser name, purchaser account ID, encoder (if accessible) or SD/HD video to choice of Category, Comments or Description tag of each selected track. By putting data in one of these available tags it can be visible and sortable or used with Smart Playlist criteria.
I've kept the word "Comments" in the title of this script for legacy purposes, even though modern versions of it can write to other tags.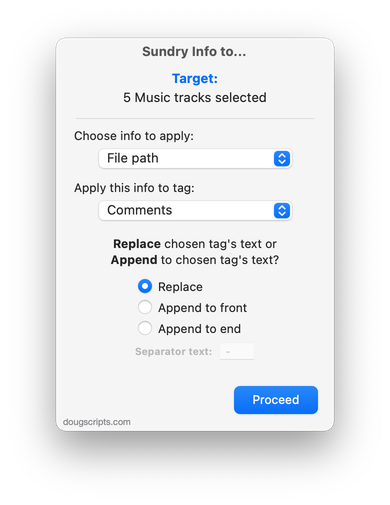 Latest version:
Maintenance and minor performance fixes
Accommodations for macOS 13 Ventura
More information for Sundry Info To Comments v6.3 and download link is here.