February 9 2023 - 12:21 pm
This script re-assigns the tracks of selected Genres to another Genre, ostensibly so that the original--and consequently any un-assigned-Genres--disappear from the Music app's Genre pop-up list. Of course, it can also be used simply to batch-edit Genres without having to assemble the tracks first.
As you may know, you can make superfluous Genres vanish from the Genre pop-up list simply by eliminating a reference to them in your tracks; when no tracks are assigned to a particular Genre, that Genre will be dropped. (Note however that Music's original Genre names cannot be removed this way; only those accumulated from other sources or created by you.)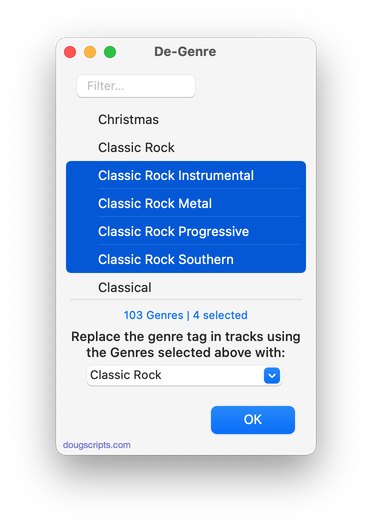 Latest version:
Maintenance and minor performance fixes
Accommodations for macOS 13 Ventura
More information for De-Genre v5.1 and download link is here.