December 14 2013 - 1:36 pm
PDF Adder is a collection of two scripts (it used to be three) that assist with adding PDF files to iTunes as "digital booklet" PDF tracks. Each provides a method for easily supplying Author (artist), Album, Category (genre), Year, Rating and Description tag data which is then applied to the newly-added PDF track entry:
Add as PDF to iTunes is a PDF Service workflow that, when installed, will be available in the PDF pop-up menu of the Print Dialog. It allows you to save the current document as a PDF file (from any application that uses the Print Dialog) and add it to iTunes.
PDF Adder is an applet/droplet that will let you choose or drag-and-drop an existing PDF file and add it to iTunes. It can be installed in iTunes' Scripts folder for easy access from iTunes Script menu.
Each script displays a panel like this so you can provide tag data for the PDF: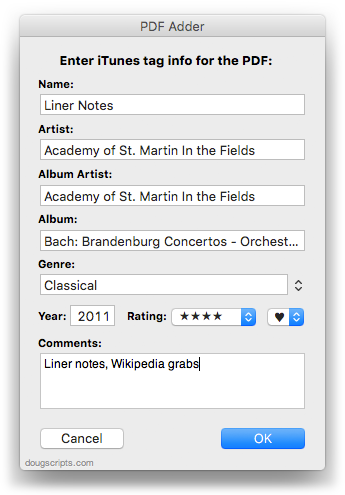 Anything you can print, you can export as a PDF...and any PDF can be added to iTunes.
These latest versions are updated for compatibility with OS X 10.9. I also got rid of PDF Dropper and just made PDF Adder launch via double-click (or Script menu launch) or by drag-and-drop. Finally, Add as PDF to iTunes will use applicable tag data for the PDF metadata tags Title, Author, Keywords (Category/Genre tag) and Subject (Description tag).
I almost included an option to add PDFs to iBooks (see below, "iBooks is Not Scriptable. Much.") but iBooks ignores PDF metadata except for Author and of course prevents "tag" editing in the app itself. You can drag PDFs from iTunes to iBooks and the name and artist/author tags will be copied to Title and Author correctly, but that's insufficient for me. I prefer the bevy of tags available for PDF tracks in iTunes.
Deal-breaker for some: under Mavericks, with iBooks installed, PDFs added to iTunes are put in the Music library. Under earlier OS's, iTunes puts them in Books or Audiobooks.
More information and download here.