October 1 2014 - 8:46 am
Append to Selected Tag v4.0 can append the same user-entered text to the beginning or ending of the existing text in the chosen tag (Song Name, Artist, Album Artist, Album, Composer, Comments, Genre, Grouping or Show Name, and their Sort siblings) in each selected track.
For tags other than "Song Name" and "Show Name", this script may be just slightly less involved than performing a multi-edit on the selected tracks. On the other hand, unlike using the modal "Get Info" panel in iTunes, tracks remain accessible and selectable.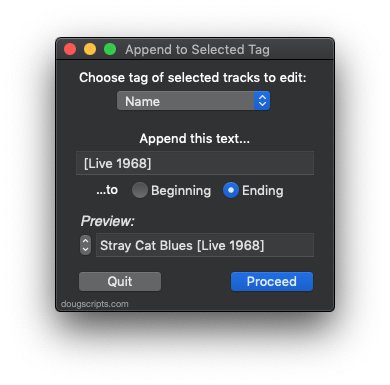 This latest version adds support for OS X 10.10 Yosemite and iTunes 12 (and drops support for pre-Mountain Lion), provides a "Check for Update" menu command, and has other minor tweaks.
More information and download is here.