February 4 2016 - 1:39 pm
Show In Playlists is a stay-open applet that monitors iTunes and detects when library tracks have been selected and then displays a heirarchical list of the playlists containing the selected track(s) (emulating iTunes' "Show In Playlist").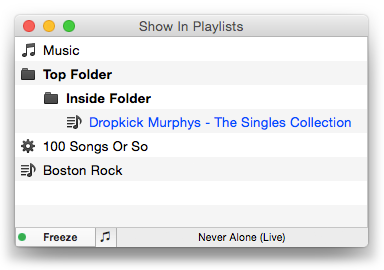 It can also be set to monitor only playing tracks (excepting "For You" and "New" Apple Music, alas). Clicking a playlist in the list chooses it in iTunes, and if a single track had been selected then it will be selected in the chosen playlist. Additionally, the monitoring routine can be toggled off temporarily so that the current list of playlists remains fixed yet still selectable.
This latest version fixes a problem resolving old and new-style iTunes Library.xml data which may have caused playlists to display erroneously.
Show In Playlists is free to use for ten days and $1.99 thereafter. This is a free update for registered users. More information and download is on this page.