December 19 2019 - 8:09 pm
For macOS 10.15 Catalina and later only. This script applet will convert a selection of files in the Finder using an encoder from the Music app. Converted files can be saved to a user-selected location and will be removed from the Music app after the process...as though it "never saw them". Includes options to create a "Converted" subfolder and delete source files.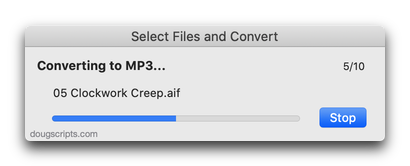 This script is intended to replace an older script droplet called Drop A Few My Way. I just wasn't able to get the droplet action to swing the way I wanted. So I scrapped the dropping and went with the selecting.
I use this in the Finder toolbar so I can quickly convert files in the front Finder window.
Latest version:
More information for Select Files and Convert v1.0 and download link is here.