November 24 2021 - 7:28 pm
For macOS 11 and later. Drag-and-drop one or more folders containing audio files on this droplet (or double-click it to select folders via an Open dialog); it will recursively add each file to Music app then distribute the tracks to playlists created on-the-fly and named using your choice of:
the name of a dropped folder
the name of each file's parent folder
the folder hierarchy containing the file
the track's "Album - Artist" tags (if available from metadata)
If dropped files already exist as track entries in the Music library they will still be copied to the playlists. The same track will not be added to a playlist more than once.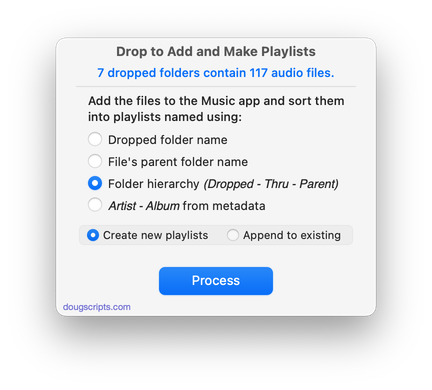 Latest version:
Initial accommodations for the Music app
UI, performance and security enhancements
More information for Drop to Add and Make Playlists v4.0 and download link is here.