Catalina
August 12 2020 - 11:11 am
For macOS 10.15 and later only. This applet will show both the assigned track artwork and the local file's metadata artwork (if any exists) for the selected track. The Track entry artwork well supports copy, paste and drags. Pasting or dragging image data immediately applies the image to the selected track's artwork and attempts to embed it. Additional tools can Embed or Apply artwork between track and file.
Free to use in Demo Mode: While in Demo Mode, these functions will be enabled to use in any combination up to five times per launch:
Embed Track Artwork (to the file)
Apply Metadata Artwork (to the track)
Paste or Drag an image file to Apply and Embed
Copy Track Artwork to Clipboard
Save Track Artwork to File
To purchase a registration code and remove this restriction, download and launch the app. Click "Register..." in its File menu and follow the prompts to purchase a code for $2.99. When your payment is processed, you will be emailed a registration code that will unlock the Demo Mode restrictions.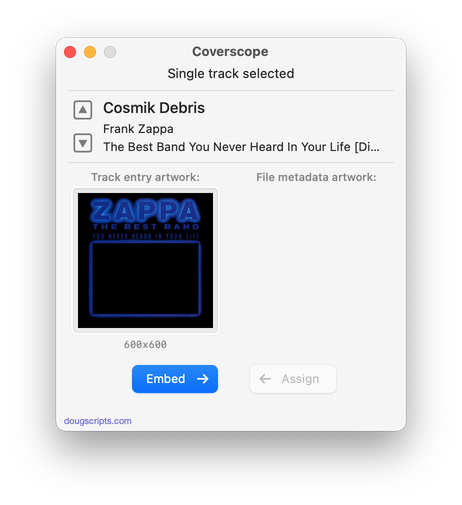 Latest version:
Accommodations for macOS 11 Big Sur
Performance, UI and security enhancements
More information for Coverscope v2.1 and download link is here.