Managing Artwork
October 18 2021 - 2:07 pm
For macOS 11 Catalina and later only. For users who are particular about managing artwork, this script can write the size of a track's artwork (eg: "600x600") to choice of Category, Comments, or Description tag (enabling tracks to be sorted by artwork size in a playlist using the chosen tag) and/or copy tracks with artwork less than or greater than a user-entered size to a new discrete playlist, named, for example, "Artwork < 300".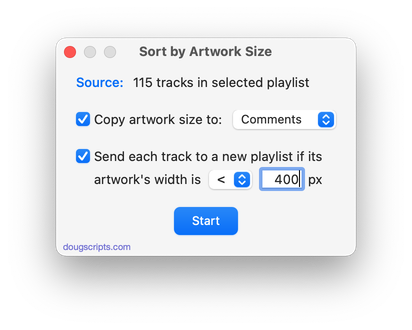 Latest version:
Initial accommodation for macOS 12 Monterey
Adds option to re-create or append to a same-named results playlist
Minor UI and performance enhancements
More information for Sort by Artwork Size v3.0 and download link is here.