May 28 2011 - 4:19 pm
I often have to add files to iTunes that I've received as mail, iChat, or Skype attachments or from other disparate sources. They're usually audio files that friends or colleagues have generated and aren't necessarily song files. They usually don't have any ID3 Tag info other than the file name/track name. I just drag 'em to iTunes, select a batch after they're added and multi-edit their tags. But somehow this workflow doesn't feel right to me. If I were ripping a CD, I'd enter the tags in the CD tracks before importing. Likewise, when I use PDF Adder I'm obliged to enter any tag info first.
But when I'm importing the files from the Finder I can only edit the tag info after the files are added. Thus, I have to find them in iTunes, select them, press Command-I to get the multi-edit window, and then I can start tag editing. Doesn't feel right.
So I put together a droplet called Drop to Add and Give Info that launches a GUI for multi-editing after you drop files on it but before the files are added to iTunes: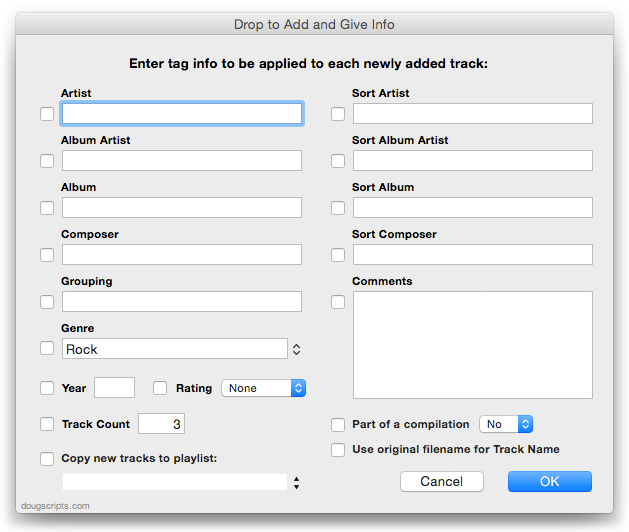 That's no AppleScript display dialog. The GUI is handled by a helper app in the droplet's bundle. After tag info is entered and the screen's dismissed, the droplet manages adding the files I dropped on it to iTunes and then applying the tag info I set in the window to the new tracks. The only thing I may still want to edit are the track numbers, but most of the other tags are already set. In fact, I don't really need to work in iTunes at all since the bulk of the important tags for the new tracks are okay for now. I can fix-up track numbers some other time (Albumize and Albumize Selection are good for this).