November 3 2020 - 9:00 pm
For macOS 10.15 and later only. This script will change the video kind property of the selected tracks in the TV app to your choice of "Home Video", "Movie" or "TV Show". Additionally, "Show Name", "Season Number", and incremental "Episode Number" can also be set or cleared for each selected track.
Protected files, such as those purchased from the iTunes Store, cannot be changed.
This app is free to try full-featured in Demo Mode, with the exception that only up to 20 tracks can be processed per launch. You can purchase a code for $1.99 which will remove this restriction. Launch the app and click "Register..." in the its File menu to make an in-app purchase.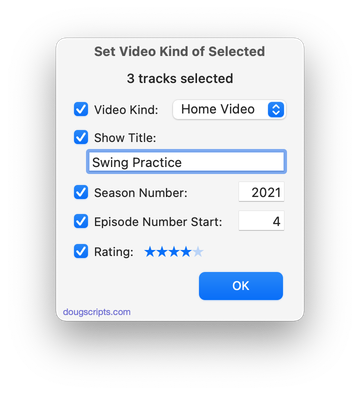 Latest version:
Additional accommodations for macOS 11 Big Sur
More information for Set Video Kind of Selected v6.2 and download link is here.