Archive for the
'Join Together' Category
July 4 '15 - 10:01 am
iTunes 12.2 introduces a new View by which to display tracks in a playlist: "Playlist". It displays a nice header with artwork from the tracks in the playlist and abbreviated tag information. I like it.
Except that there is an issue when dragging tracks from a playlist set to "Playlist" view to another drag-and-drop enabled application. The pasteboard that should contain metadata information about the tracks being dragged ("com.apple.itunes.metadata" is the name of the pasteboard type) only supplies the file paths ("NSFilenamesPboardType").
This affects my apps "Join Together", "M3Unify" and "Playlist Assist". The workaround is to either drag tracks while the playlist is in "Songs" view or drag the entire playlist by selecting its name in the Playlist Column and dragging.
I'm working on fixes for those apps.
March 26 '15 - 6:13 am
I'm happy to announce a pretty cool update to Join Together.
Join Together will create and export a single AAC or ALAC (Apple Lossless) audio file from the audio data of tracks dragged from iTunes or files dragged from the Finder.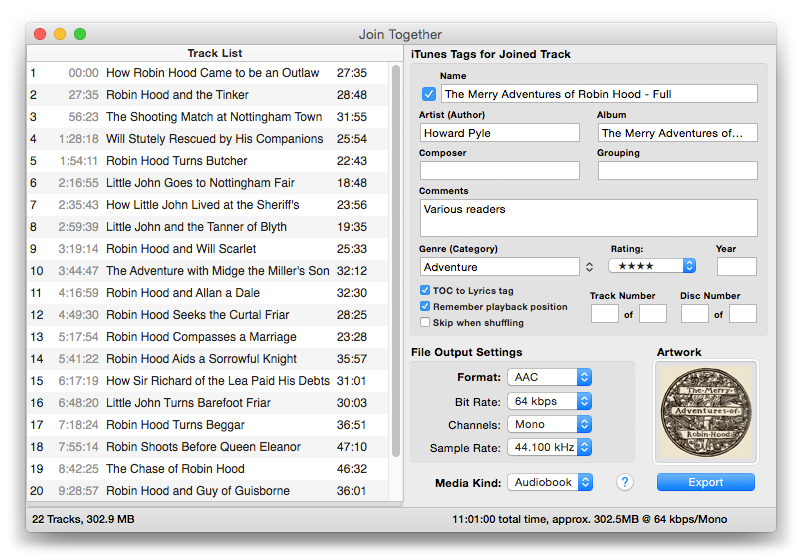 This latest version will accept dragged or copy-and-pasted artwork to be applied to the final joined file's metadata. Additionally, there is now support for exporting 16-bit and 24-bit ALAC files at 44.1, 48, 88.2 and 96 kHz.
Join Together is free to use full-featured in demo mode, whereby the volume level of the final joined file will be sharply reduced at the half-way point of the file. A registration code, which when entered will remove this restriction, is $5.00. More info and download is here.
Additional screenshots follow. (more…)
July 28 '14 - 7:27 am
Join Together will create and export a single AAC or ALAC audio file from the audio data of tracks dragged from iTunes or files dragged from the Finder.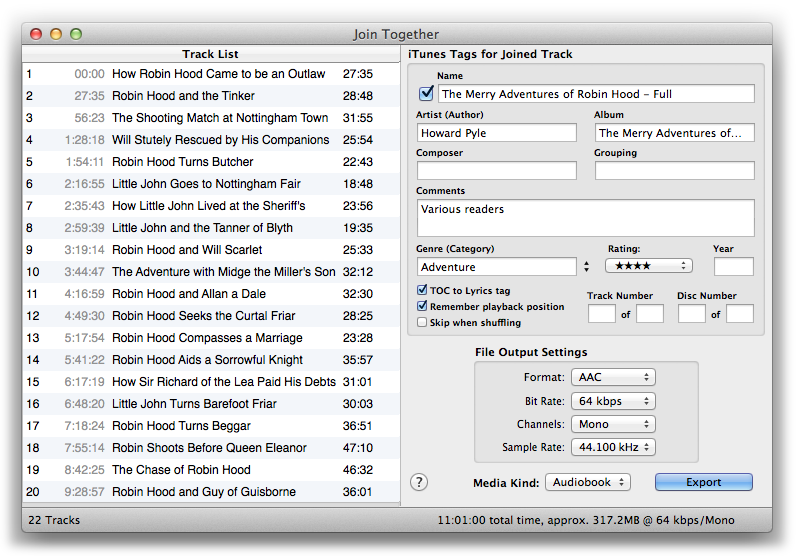 This latest version includes fixes for some memory management issues in Mavericks and later. It will work under the Yosemite beta with iTunes 12, but observe the usual caveats about pre-release beta software.
Join Together is $5.00; this version is a free update for registered users of v7.0 and later. More information and download is here.
June 2 '14 - 3:44 pm
Join Together, my app that makes a single file from tracks dragged from iTunes or from files dragged from the Finder, has been updated to version 7.1.2. It fixes some memory issues that might cause a fail or crash while joining many large files in successive sessions and fixes a problem validating numeric input.
August 15 '11 - 11:45 am
Join Together v6.1.2 addresses an artwork-related issue that would cause a stall when adding the final file to to iTunes and fixes an issue with the shareware notice in Lion.
July 12 '11 - 9:21 am
I've been developing Join Together since 2004, when it began as just a simple AppleScript that automated the process of using QuickTime to combine the files of selected tracks into a single file. Later, I added the Cocoa interface and ability to chapterize with Apple's "ChapterTool". Well, "ChapterTool" requires Rosetta to run and Apple is discontinuing support for Rosetta in OS X Lion. That means that Join Together will be unable to to use "ChapterTool" when run in Lion and there really isn't anything I can do about it. C'est la vie, to put it politely.
There are other apps that perform similarly (and better), but I know that Join Together is a favorite among a small number of Mac users (it was designated a Mac Gem by Macworld in 2008) which is why I have continued to maintain it. Therefore, I will be releasing an updated version of Join Together that side-steps the chapterizing options when run in Lion. However, these options will still be available when it's run on Snow Leopard operating systems.
Look for the update within the next few days.
April 6 '10 - 10:36 am
Join Together v6.0.1 fixes some bugs that arrived in the v6.0 version:
fixed issue whereby file would not finish up export
addressed issue with QuickTime not creating new document
fixed issues that emerged with iTunes 9.1
fixed error if no user playlists [Plus version]
other minor fixes
Several Correspondents provided a lot of excellent trouble-shooting help on this. I really appreciate their time and effort. Future users salute them!
April 3 '10 - 7:35 am
Several users have reported (and are helping me trouble-shoot) a bug in the latest Join Together, which is v6.0. Essentially, the issue seems to be that the join never leaves "Finishing export". I'm working to solve the issue and have an update early in the coming week. Thanks for your patience.
March 22 '10 - 3:00 pm
Join Together v6.0 is now available. This release is for machines running Mac OS 10.6 Snow Leopard or better only. If you are running Mac OS 10.4.11 or 10.5.8 then you do not need—nor will you be able to use—this update.
Join Together automates the process of joining the files of selected iTunes tracks together with QuickTime and exporting them as a single AAC Music or Audiobook file/track. Optionally, you can then create a "chapterized" audio file of the exported AAC file with pointers to the individually joined tracks.
Updated in Join Together v6.0:
Improved compatibility with Mac OS X 10.6 Snow Leopard
Addressed checkbox toggle issue
Minor performance enhancements
minor GUI changes
More information and links to download are on the Join Together v6.0 page.
September 10 '09 - 12:02 pm
Several users have emailed about this: If you have upgraded to Snow Leopard and are using Join Together you will need to install QuickTime Player 7. And be sure to get the latest version of Join Together.
QuickTime Player 7 is in "Optional Installs" on your Leopard Install disc. Open this folder, run "Optional Installs.mkpg", and make sure "QuickTime Player 7″ is checked.
After installing QTP7 (or if it is already installed), you can find it in /Applications/Utilities/. Activate it and run it long enough for it to establish a full launch, and then quit it. This will be enough activity for its preferences file to be created, which Join Together needs to locate.